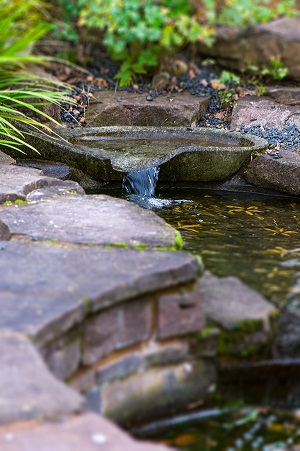 It's important that you not forget about the non-plant items for your healing garden that can transform it into a lovely place for relaxation and meditation. You'll need equipment such as hardware (for fountains and other items) and furniture to make your outdoor space into a relaxation sanctuary.
To truly be classified as a healing garden, the design must implement items besides plants and herbs. For example, a water feature such as a waterfall, Koi pond or eco-friendly pond can produce soothing sounds and bring a different element into the picture.
Comfortable chairs and benches can also make a difference in making your healing garden an inviting place to visit and linger. Other items such as chimes and statues can all be added according to your taste and style.
Any sensory connection that promotes stress relief and relaxation can add to the beauty and tranquility of your healing garden. Here are some items that you'll want to think about during the planning phase of your healing garden:
Water Features
You can go as simple or elaborate as you like with water features for your garden. If you have the space, you can incorporate a pond and fill it with fish such as Koi. You'll need a good water pump and some other necessary equipment to keep the water as fresh and wildlife friendly as possible.
If you don't have the space for a pond, there are many water feature products such as waterfalls on the market that come pre-formed, with their own pump and fountains in all shapes and sizes. They're easy to assemble and maintain and add lots of interest to your garden space.
Furniture
Again, you can be as simple or elaborate as you like with the furniture you choose for your healing garden. Natural wood furniture can blend with the outdoors and make it look seamless. A wooden bench next to a waterfall can be a relaxing place to meditate or read a book.
You may want to go all out and add a dining space for your garden. It can be a fun place to entertain or grab a few minutes with a cup of coffee or glass of wine when you just want to relax.
Maintenance Equipment
Tools and other maintenance items that you need depend on the complexity of your healing garden. You may need some garden tools to take care of the plants and herbs surrounding the garden. A hose or watering can is also required.
If you choose to have fish in a pond or bird feeders and houses, you'll need special equipment for that too.
As you plan and build your healing garden, think about the maintenance issues involved and how much time you have to devote to a more elaborate design and plan accordingly.