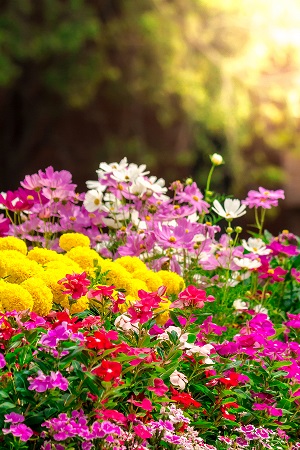 Creating a healing garden that's easy to maintain is all in the initial design element. If you want a healing garden, it's likely that you need to spend time enjoying the ambiance of it and not spending all your time maintaining it.
Since the design element is so crucial to the maintenance issues of your healing garden, it's best that you spend some time in research about the size and scope of the garden you want, versus how much time you have to spend taking care of it.
A large pond with Koi and water features may sound like the ideal garden space to relax and meditate, but in reality, this type of garden is going to take a lot of your off time maintaining.
If you can afford a gardener to take care of it or are retired and enjoy the maintenance part of gardening, go for it. Otherwise, take some time to research garden ideas and then make decisions on the design elements.
Many people are happy with xeric (zen-like) gardens that are simplistic, but that offer some excellent elements that can become a place where you can hang out with a book or friends or meditate to your heart's content.
Choosing plants and other features that make for easy maintenance is also crucial for an easy to maintain healing garden. Those plants that need to be dead-headed or pruned periodically may not be for you.
Healing and wellness gardens are all about stress reduction. If you live in Texas, you likely don't want to be outdoors in the middle of summer – and you?ll want to design a watering plan into the design so you won't have to worry about losing your plants if you're away for awhile.
It would be an ideal world if plants could take care of themselves, but many are delicate and need extra care – just like some pets. There will always be some maintenance you have to do for your healing garden, but understand what your limitations are and plan accordingly.
Planning for easy maintenance of your healing garden can make it a true source of inspiration and healing. By planning ahead of time for easy maintenance, you can enjoy your garden in any season.
Don?t let your healing/meditation garden cause more stress than joy. Research your design and plants before executing the garden design and let it be all about you, not the maintenance of the space.