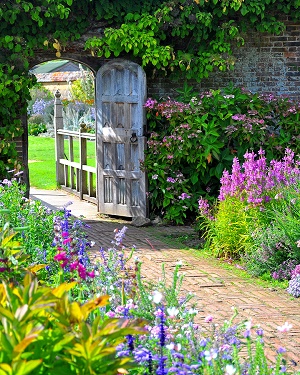 The focus of a beautiful garden is the inspiration, calmness and beauty to the eye that it provides. You may have a garden that also provides herbs for cooking and healing, but whatever the reason and wherever the garden is located, the paths that meander through it should be considered in the design.
Pathways in your garden should link areas of your garden. For example, if you have a pond or large water feature that's some distance from the house or outdoor dining areas, a winding and attractive pathway can be a great design feature.
Here are some creative designs that can add aesthetic value to your garden area:
Natural Stone
If done correctly, a natural stone pathway can help to transition the levels and areas of the garden. Natural stone fits beautifully into the landscape and are great for any type of garden design. Rock materials, fieldstone or bricks are great to use in garden pathways.
Tile and Concrete
Used in garden pathways to create geometric patterns that can look great in formal or cottage gardens. Plants along the path can be used to soften the edges and further define the path.
Recycled Materials
Integrate recycled materials to create original garden pathways. You can use fieldstone and rocks to fashion a winding garden path that will rival the beauty of the plants in your garden.
Wood
Creating a rustic pathway with wood isn't difficult and you can use odd pieces to get just the design you want. You can also edge flower and garden beds with wood to continue the same pattern.
There are also many ways to garnish your path with more beauty. Flowers or grasses planted on either side, moss in between stones and creative lighting can all enhance the winding pathways leading through your garden.
Garden Paths Should be Inspiring
"Beds and other decor are but to enhance the path – paths play an important part in giving character to the garden," wrote Fletcher Steele, an American who designed gardens for the wealthy. It's true that to have a great garden design, the paths should meander effortlessly and beautifully through the fauna and foliage.
Make your paths inspiring by giving much thought to the design before actually implementing them into your garden. You want to create a path that will be inspiring to yourself and your visitors every time you enter your garden area.
Make your garden paths the skeleton of the garden and build on that skeleton, adding the creative elements that will make it reflect your likes and personalities as they wander beneath arches, around corners and through specific garden areas.