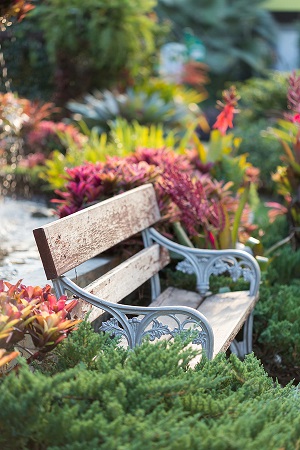 Gardening benefits your health and well-being in so many ways and appeals to all the senses. Many people are turning to "sensory" gardens to enjoy the stimulation you can get for touch, sight, smell and sound. It's easy to achieve and satisfying to create.
Today, many care facilities are using sensory gardens for their patients. A stroll through the features it offers can relax and calm patients – and studies indicate it helps those children with autism and other disabilities to better process their thoughts and actions.
When choosing plants for a sensory garden, remember to design and choose the plants in the garden in a way that appeals to all five senses. For example, you'll want to encourage visual stimulation by colors.
Keep in mind the seasons and group or plant them accordingly for maximum benefit. Butterflies and birds are attracted to colorful plants and flowers – and provide extra sensory stimulation.
Incorporate sound in your sensory garden by adding plants which project sounds, such as rustling of leaves or ornamental grasses that make calming sounds when the wind blows through.
Water fountains and wind chimes are also great additions for sounds in the garden space. You can create a beautiful and calming area by strategically placing them where they can be most enjoyed. Continue reading →